June 5, 2017
Workshop: Cultural Translation and the Information Gap
by Richard Medhurst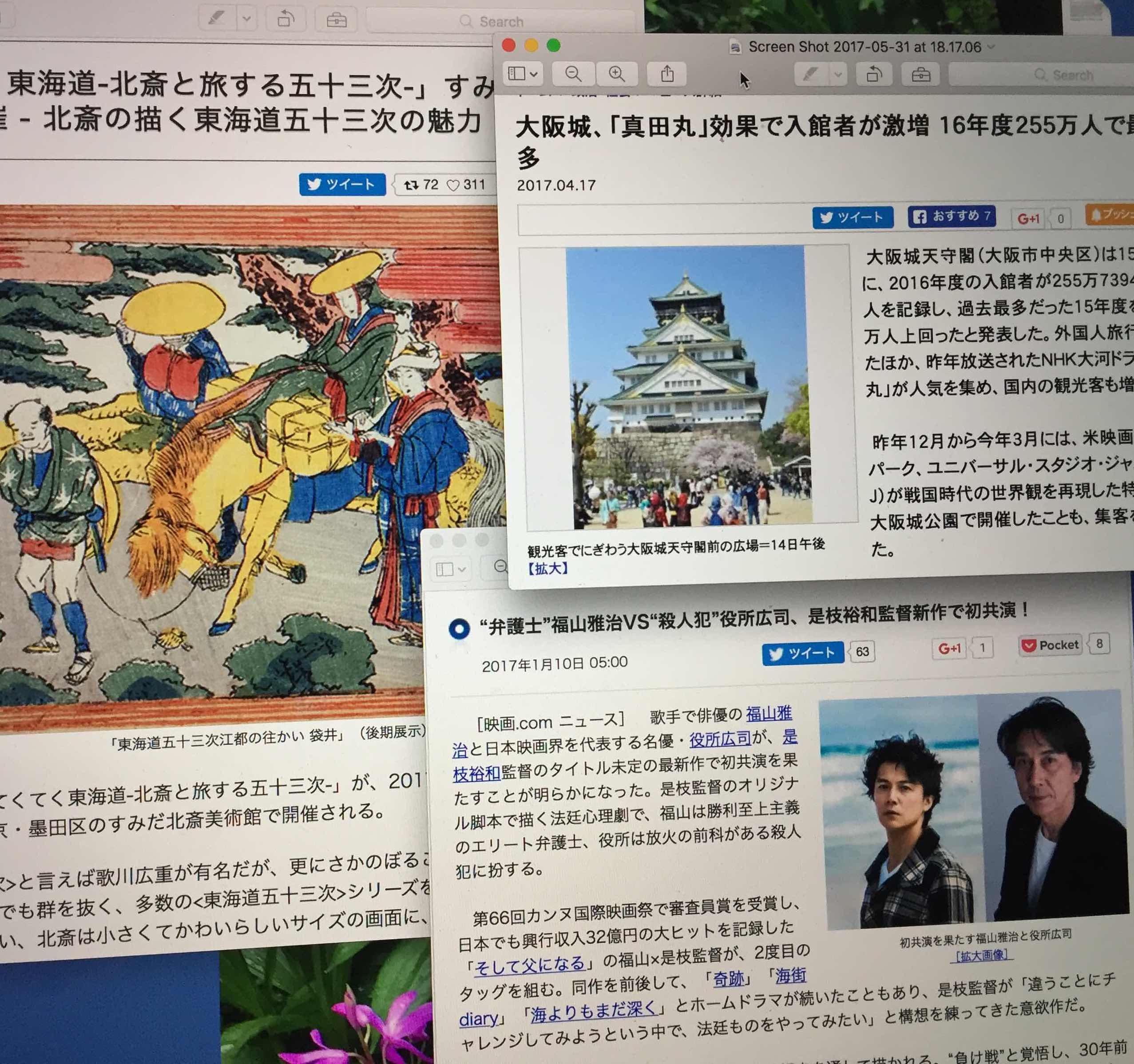 Japanese and English readers come from different cultural backgrounds. References that are familiar to the former, whether from tradition or popular culture, may baffle the latter. The SWET workshop I led on May 17, 2017 tackled cultural translation for the general reader, considering how to handle the "information gap" between the two kinds of readers with the aim of producing translations that are enticing and easy to follow.
Know Your Audience
The workshop began with a warm-up exercise comparing two texts about cherry blossoms written for very different audiences. One was taken from a Japan Times article (a Kyodo news agency report) on a cherry blossom viewing survey. The other was the opening paragraph of a piece in the Economist about how the flowers are coming into blossom increasingly early in the year. While readers needed to have a strong understanding of the custom to get anything out of the first piece, the second assumed very little knowledge.
When translating a Japanese text to make it more readable, it is useful to have an audience in mind. I work for the news and culture website Nippon.com, and I have a fairly clear picture of what I expect the readers to understand and what they might need more help with. They are closer to the first audience above than the second, as we assume a certain level of knowledge and interest. This is reflected in my sample translations below, which were written as if I was performing my day job. But as there are different audiences out there, it means there is room for debate on how best to serve the reader.
Text 1: A Hokusai Exhibition
The main part of the workshop focused on three short Japanese texts distributed so that participants could prepare their versions in advance. The instructions stated, "Feel free to add, subtract, and rearrange content, so long as you judge that the overall translation is essentially 'faithful.'" To get discussion started on the day, I handed out translations in which nothing had been added or subtracted and rearrangement was severely limited. As the lively discussions that followed demonstrated, there was considerable room for improvement. I then offered my best effort in each case, prompting further comments.
You can skip directly to the bottom of this article to find the workshop materials below. The translations are initially hidden, if you want to have a crack before reading further.
The first text was an extract from an article about an exhibition at Sumida Hokusai Museum. One of the big differences between my literal and improved texts was to leave the title of the exhibition out altogether. An initial question is whether the article needs the romanised Japanese title. I followed Nippon.com style in providing it on first mention, but it seems off-putting to have it at the start of the opening sentence. While readers may be more forgiving further into an article, the first sentence needs to clearly set up what the piece is about, preferably in an engaging manner. Unfamiliar cultural elements, including language, should be kept to a minimum. However, as it might be useful to prospective museum visitors, in retrospect, I feel I should have included the title along with other information at the bottom.
Incidentally, the English title comes from a museum press release I found online. If it had been more prominent on the website, I would have been keener to put it in my translation, but it is not clear how users might actually be able to find this PDF. Even in English, the title contains elements that require some explanation. I aim to make glosses as efficient as possible. Many people interested in Japan have at least heard of Hokusai, but providing the one word "artist" helps to orient them from the start. Giving his birth and death dates does double duty by also providing a historical context for the Tōkaidō road. Admittedly, what exactly a "post station" is may remain a little fuzzy in the reader's mind. Yet it seemed to me a full gloss might do more harm than good, by sending the sentence on a major detour.
Having set readers off in the right direction, we need to continue to provide signposts along the way. There was some discussion about whether Hiroshige could really be described as Hokusai's "contemporary," given the age gap. Then came the question of whether a gloss is needed at all. However, my reason for adding one is that I wanted to start the sentence with Hokusai to guide the reader from already introduced material to something new. The Fifty-Three Stations of the Tōkaidō also needs glossing to let the reader know it is a classic and to place it in time. (Going back to the question of titles, here the work is so famous that there is a good case for leaving out the romanised Japanese version.)
Text 2: A New Koreeda Film
Director Koreeda Hirokazu is the main focus of the second piece, so the first improvement to the literal text was to ensure his name appeared before those of the two stars. I wanted to change the glosses for the actors too, but this brought more decisions about how exactly to do so in two or three words. There is creative responsibility in providing these explanations, and some brief online research can be useful. Still, it can be hard to pin down what, for example, the words "Fukuyama Masaharu" evoke for a Japanese audience.
Sometimes the information is just not available. It was suggested in the workshop that the film could be described as a "thriller." I had also considered this when working on my translation, but ultimately decided against it. While the word adds a lively tone and reduces the repetition of "drama," it is too much of a leap for me when describing a film that has not actually been released. It might end up a thriller, but it might not. Having said this, genres are tricky and many film fans would disagree about definitions for each. Further complicating matters, Japanese genres do not always map onto their English-language equivalents. Lower down in the text, some people preferred "family dramas" to "domestic dramas" as a translation for ホームドラマ.
Another improvement was to change "66th" to "2013" when talking about the Cannes film festival. The year is much more informative to the general reader. Somewhat similarly, in the Hokusai text I cut "the third exhibition commemorating the opening" of the museum altogether. These kinds of details may be common in Japanese, but they are simply not suitable for English readers.
Right at the bottom of the text, I ducked the translation of 意欲作. A big problem for me in interpreting the word here is that the implied fervour does not seem to match up with the more casual words attributed to Koreeda, so I simplified this part of the original text. (I made this an indirect quotation in my improved version, as 「」punctuation in Japanese often represents a paraphrase.) Nonetheless, this final sentence could probably be made better, and I must admit that I missed the opportunity to discuss the meaning with a native Japanese speaker as I might do in my job
Text 3: Record Visitors at Osaka Castle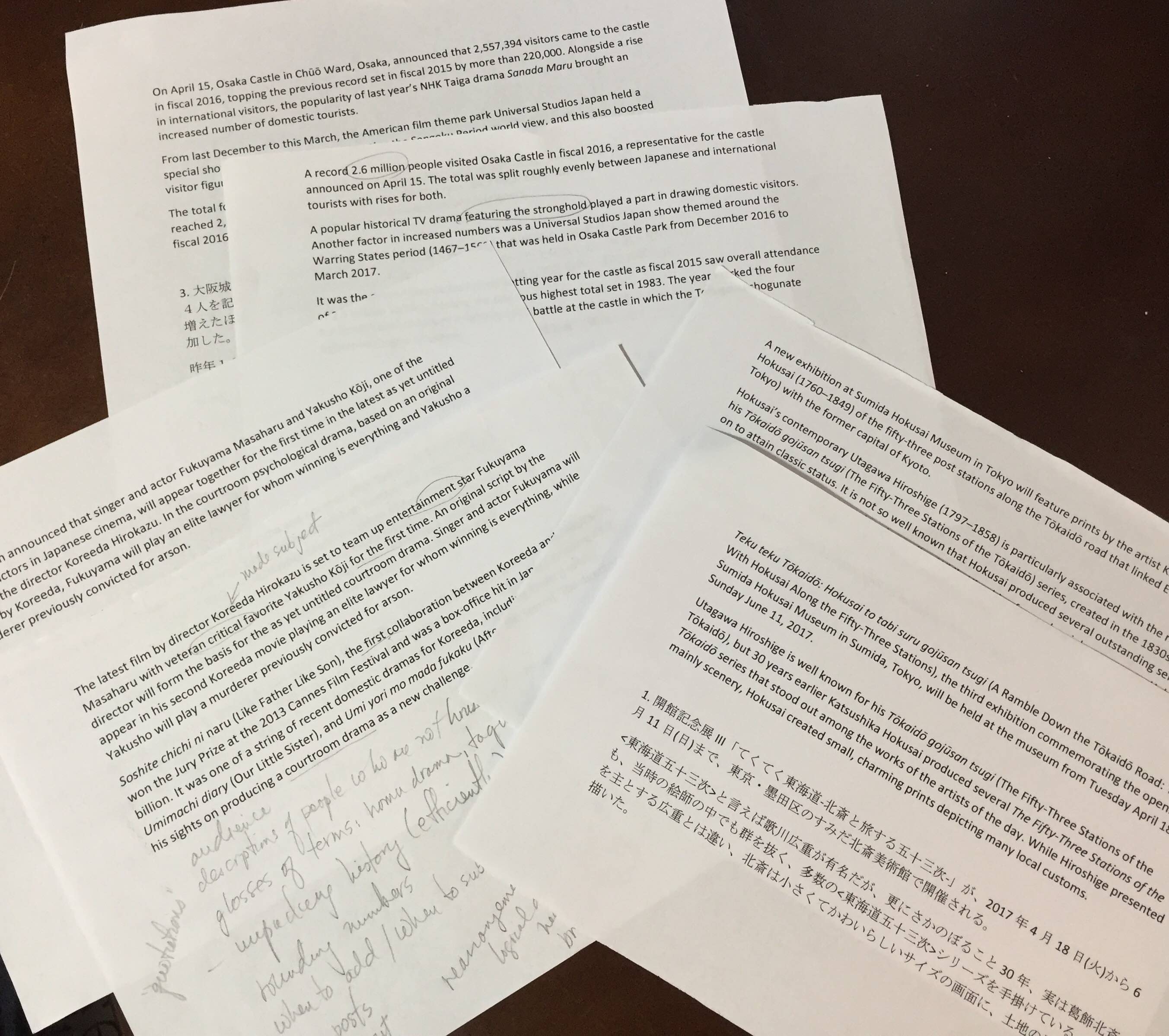 A big issue with the third article, on visitor numbers at Osaka Castle, is that it is not well ordered by English-language standards. Rearranging not only makes it easier to read but also prevents unnecessary inflation of the word count. While giving the exact figures is standard Japanese practice, this is also difficult to process for English readers and rounding them does not amount to a significant loss of information. These changes proved uncontroversial among those at the workshop.
Historical aspects are often tricky as non-Japanese tend to know relatively little about the country's past. I was happy to lose mention of Sanada Maru, the implied reference to Sanada Yukimura, and Taiga dramas in general. Still, I wanted to give readers a taste of the history at least. Here again, knowledge of the topic is vital. For the last sentence, I missed the chance to discuss options with someone else, which is a benefit of working in-house.
The Summer Campaign (夏の陣) mentioned in the text took place in 1615, but was the second part of the Siege of Osaka, which actually began in 1614. I ended up opting against using the "Siege of Osaka" for this reason. In hindsight, I could have said it was the anniversary of "the climax of the Siege of Osaka." Some felt "tightened" was a little weak as a description of the battle's result, so I might have used "secured." (I agree with the criticism that the way the sentence begins "The year" is confusing as to what year it refers to. This could be fixed by making it "The year 2015" and removing the then unnecessary "1615.")
Adding in such details may mean more work, depending how well you know the topic. It is always a judgment call as to whether it is worth taking the time to establish the background and, if it is a generally new area, there is even the risk of becoming confused and providing incorrect information. Nonetheless, at my present job at least, I find that readers appreciate a few extra details. They might well enjoy even more than a few, but adding lengthy explanations is where translating shades into rewriting, which may result in excessive time commitment.
I have mainly discussed my own translations and thoughts here. In the workshop, a lot of experienced participants shared their ideas, much of the time in small groups, and while some points certainly influenced my write-up, I am afraid I am unable to give the details here. A general summary of the main points follows.
Summary
1. Have a particular audience in mind. What do your readers know about Japan? Bear in mind that Japanese culture is flowing out to the world through ever more channels. Some details appropriate for Japanese readers may appear pedantic to English readers, so can simply be altered or removed. Think about whether you would expect to find them in a text originally written in English
2. Make sure you have a good opening. It is the most important part of the text. It should be clear and engaging with a minimum of unfamiliar cultural elements. If time is an issue, it should receive priority.
3. Guide readers with glosses. Help them to absorb references that may be anything from half-remembered to entirely new. At each potentially tricky moment for readers, you may decide to add a gloss, make the reference more general, or remove it altogether. Or you may ultimately choose to retain it unglossed.
4. Weigh up your options. Is the reference essential or is it a tangent? How interesting would an explanation be compared with removing the reference? Is it easy to explain without disrupting the flow of the text? Do you know the topic well enough to improvise?
5. Look for precedents. When you think a gloss is necessary but you are not sure what words to use, try seeking out how others have introduced a term or person. I find it helpful to limit Google searches to News or Books results to boost the likelihood of finding quality writing. It can be risky to add glosses if you cannot fact-check appropriately, so it is better to be a little conservative in this case.
6. Guide readers from known to new material. Put in signposts to show relationships.
7. Create a natural flow. Rearranging a text into a logical order for English makes it easier to read and prevents it from being longer than it needs to be.
8. Do your best within constraints. Time is a limiting factor, so there will always be compromises. Even so, developing the habit of considering readers makes it easier to do so efficiently. I don't have enough personal experience to generalise about clients, but I know they can demand compromise too. If there is leeway here, please take advantage. Your readers will thank you.
Text 1: A Hokusai Exhibition
開館記念展III「てくてく東海道-北斎と旅する五十三次-」が、2017年4月18日(火)から6月11日(日)まで、東京・墨田区のすみだ北斎美術館で開催される。
<東海道五十三次>と言えば歌川広重が有名だが、更にさかのぼること30年、実は葛飾北斎も、当時の絵師の中でも群を抜く、多数の<東海道五十三次>シリーズを手掛けている。風景を主とする広重とは違い、北斎は小さくてかわいらしいサイズの画面に、土地の風俗を多く描いた。
Text 2: A New Koreeda Film
歌手で俳優の福山雅治と日本映画界を代表する名優・役所広司が、是枝裕和監督のタイトル未定の最新作で初共演を果たすことが明らかになった。是枝監督のオリジナル脚本で描く法廷心理劇で、福山は勝利至上主義のエリート弁護士、役所は放火の前科がある殺人犯に扮する。
第66回カンヌ国際映画祭で審査員賞を受賞し、日本でも興行収入32億円の大ヒットを記録した「そして父になる」の福山×是枝監督が、2度目のタッグを組む。同作を前後して、「奇跡」「海街diary」「海よりもまだ深く」とホームドラマが続いたこともあり、是枝監督が「違うことにチャレンジしてみようという中で、法廷ものをやってみたい」と構想を練ってきた意欲作だ。
Text 3: Record Visitors at Osaka Castle
大阪城天守閣(大阪市中央区)は15日までに、2016年度の入館者が255万7394人を記録し、過去最多だった15年度を約22万人上回ったと発表した。外国人旅行客が増えたほか、昨年放送されたNHK大河ドラマ「真田丸」が人気を集め、国内の観光客も増加した。
昨年12月から今年3月には、米映画テーマパーク、ユニバーサル・スタジオ・ジャパン(USJ)が戦国時代の世界観を再現した特別ショーを大阪城公園で開催したことも、集客を後押しした。
天守閣の入館者数は、大坂夏の陣から400年となった15年度は233万7813人に達し、それまで最高だった1983年度の記録を更新。16年度の観光客は日本人と外国人がほぼ半数ずつだった。