May 19, 2020
Doreen Simmons: Teacher, Writer, Editor, Commentator
Our Doreen—everyone's Doreen—is gone. Proud founding member of SWET, stalwart contributor to the long-running Newsletter, and to SWET's cyber-age website, colleague, friend, cheerleader, stage player, savant, linguist, teacher, musician, grammarian, rewriter, editor, sumo commentator—the list could go on. We will miss her and remember her always. May she rest in peace, knowing she has a firm place in our hearts.
A memorial service was held in Tokyo on June 2, 2020.
See the obituary circulated by the group FEW (for Empowering Women in Japan).
Another obituary appeared in the Washington Post, May 11, 2018.
Also, the obituary in the New York Times, May 13, 2018.
Watch again "A Day with Doreen," the sumo-oriented article published by ABC Australia with its well-produced 2-minute video.
http://www.abc.net.au/news/2016-02-10/doreen-simmons-unlikely-sumo-wrestling-expert-japan/7155198
A Day With Doreen: A two-minute portrait of sumo commentator Doreen Simmons
https://vimeo.com/112989443
Read Doreen's contributions to SWET at the SWET site: Search "Doreen"
Her Aunt Eva series is collected under the "Columns" heading.
Read a 2007 interview with Doreen on how she came up with her advice columnist persona, Eva Hartupp.
https://www.swet.jp/columns/article/ask_aunt_eva_reissued/_C37
Remember Doreen to share with SWET (contact us)
Kay Vreeland (4-26-18)
Doreen was a sparkle to any day; never "all out front," she revealed her jewels and gems—especially those that sparkled as her mind skittered from one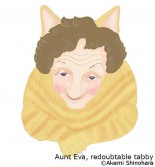 creative observation to another—as she talked and as expressions moved across her face. Her stage acting life let a lot of her facets shine even more brightly than in written words, and the image of her as a "wired-up, pensive, lovable old tabby," is the best depiction I know of. One of my favorite revelations was how her advice columnist persona, Eva Hartupp, came into her name—Doreen at her best! Her late 1990s advice column for translators and other word workers in Japan, is still relevant! Whether hovering near a sumo ring, or sitting before a blank page waiting for words, or chatting with friends, Doreen was tuned in to the world and its surprises and I miss her witty touch to my days.
David Jack (4-26-18)
It was with great sadness that we heard of Doreen's passing at 85. Her Sumo Focus articles were based on a deep knowledge and understanding of the sumo world. She lived in Ryogoku where she breathed sumo. She wrote over fifty articles for Kansai Time Out and was quite irreplaceable. She will be greatly missed by sumo lovers and others.
Hugh Ashton (4-27-18)
I thought I knew Doreen - until I found myself sitting opposite her at a SWET bonenkai, and we got to talking. I knew she had been at Cambridge, and I asked her if she was a Girton girl. It turned out, after a few exchanges, that she and my mother had had adjacent rooms in college. They hadn't seen each other for over fifty years until my parents visited Japan almost ten years ago, and they met at St. Alban's church for an organ recital.
Somewhere I have a picture of Doreen and some of the first Mongolian rikishi at a party we attended. I remember that the table at which Doreen, my wife, and I were sitting won most of the raffle prizes, and one of the Mongolians came over to ask us how we had arranged this.
She will be sadly missed by many. We all knew different sides of this remarkably multi-faceted and talented person - I wonder if anyone knew them all.

Washington Post, May 11, 2018 Obituary (PDF)