May 31, 2011
A Writer's Look at the iPad (2011)
by Lem Fugitt
Lem Fugitt is a Tokyo-based geek-about-town, using his experience in technology and business to write regularly on items of technical interest. He writes here about his recent conversion to a new way of putting thoughts into written words.
If anyone had asked me back in March 2010 if there was anything I really wanted or needed to improve my writing, my immediate answer would have been, "No, everything is just fine." I wasn't looking for a solution to my "workflow/productivity problem" because I didn't think I had a problem.
The best metaphor to describe my situation was that sometimes you get a small splinter in your finger. You hardly even notice it. It irritates at a very low level and maybe you develop a low-grade infection, but you learn to live with it and ignore it and after a while you forget it's even there. That's what was happening with my writing using a laptop computer.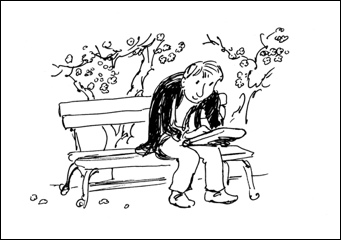 In April 2010 I was in the US on business, and almost on a whim decided to purchase an iPad, which had just hit the market and was generating tremendous buzz. I wanted to see what it could do, but I didn't have high expectations. I honestly thought its main use would be for me to watch movies and play games on planes, killing time during my 12-hour international flights.
However, it wasn't long before I realized that the iPad was rapidly starting to be used for the vast majority of functions where I had previously used my laptop. Over the course of the next two weeks I began to depend on the iPad more and more, and found that I only used my laptop to access older files stored on its hard disk.
At first, I only turned on my new gadget to take a few quick notes, but the writing process on the iPad was so simple and easy that I found myself writing longer and longer pieces. I started carrying it around with me everywhere, even when I went for a short walk in the park.
One Friday evening during my trip I attended a hackerspace meeting in Brooklyn. On the 30-minute trip back to Manhattan, I transferred several digital photos from my camera, edited them, wrote a blog post, and published it to the Internet, all while traveling on the subway. This made me realize how powerful the iPad could be for my purposes. I would never have thought of using my laptop in the same way. All the limitations of slow startup time, large ponderous applications, and worktime constrained by battery life, had vanished. The splinter and infection that had been slowing me down were suddenly gone. My relief was as palpable as it was unexpected.
Symbiotic Writing Patterns
My writing falls into three main categories: blog posts, magazine articles, and formal reports and presentations, with each category driven by different dynamics. Blogging tends to be time-sensitive; magazine articles have much longer timeframes and require much more preparation, fact-checking, and precision. The formal reports, typically market or product analyses performed for clients, are the most demanding and need the most thought, quality and accuracy, but often have short deadlines.
These three categories are closely linked in my life, feeding each other to generate income. A single blog post, or series of posts, often results in a request for a more extended print magazine article. My print articles and blog posts generate visibility and credibility, and help to establish and extend my reputation as an expert in my field, attracting more clients for my consulting practice. My clients provide me with early access to new products and breaking news, and these items become great fodder for my blog posts.
Robots Dreams, my robotics and technology blog, is the vehicle for most of my blog posts, though I do publish several other specialty blogs, all of which generate revenue using a combination of Google AdSense advertising and Amazon. The content is almost always time-critical, and I rush to get breaking news up on the Internet before my rivals in the field. It's very much a dog-eat-dog business. The first reporter to publish hot technology news will get picked up by the top websites in the field, such as Engadget, Gizmodo, and Boing Boing. When they feature a story, the resulting traffic numbers to the original source blog can be incredible, usually creating regular blog readers. The second blogger to post the same news just gets a big yawn.
Robots Dreams itself draws an average of roughly 100,000 visitors per month. Sustaining that level of traffic can be a challenge, and it is critical to consistently produce interesting, fresh, timely content, and here there are real advantages to using the iPad.
The biggest immediate advantage I discovered is that I can create content in real time. At an event like a competition, interview, or trade show, I am able to write and file my story while the facts are still fresh in my mind, without worrying about the battery running out, or being slowed down by the application or operating system. The timeliness and accuracy of my stories has improved noticeably, and the number of stories I could create in the same period of time has increased considerably.
A pleasant side-effect has been that when I return home in the evening, my work is already completed, instead of waiting for me to tackle it. Other benefits have made themselves apparent. My posture has improved, because I no longer need to carry a heavy shoulder bag, loaded down with a large laptop and several spare battery packs.
I'm not claiming that the iPad is perfect. Far from it—it has definite limitations. I wouldn't try to write a whole book using it, or process hundreds of photos, or edit professional videos. It just doesn't have the horsepower to support that kind of processing. In an odd way, that's also turned out to be an advantage as it's caused me to rethink my workflow. At home I use an optimized Windows desktop system to handle those specialized tasks since they represent just a small percentage of my total computing needs. In contrast, the iPad handles 100 percent of my portable computing and writing needs.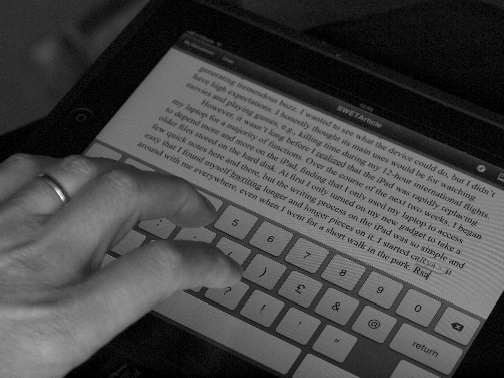 The typical first-generation-type limitations also apply; for example, exchanging documents and files between systems or applications is not easy, but so far that hasn't been a major problem. I expect the situation to improve as we see new releases of the operating system and applications, but I really want to see Apple and the application developers improve file and document connectivity, as well as compatibility with other software. Although the system is currently usable, more options for importing and exporting document file types to and from the iPad would be most welcome. The free Dropbox service is supported by many applications, though, and this allows relatively seamless transfer between the iPad and my desktop.
I also like the fact that most applications are very low-cost compared to their desktop equivalents – the cost of a beer or two at most, and are easily installed and updated. It's possible to buy an application for a single function in a single project and then never use it again, which is something you think twice about doing with desktop software.
Applying the iPad
For applications to support my writing, I'm currently using iThoughtsHD for mind mapping, Apple's Pages to write articles, and their Keynote for presentations, Photogene for quick editing of photos, and BlogPress for publishing blog posts. To gather and organize content from the Internet quickly I use a few other applications, like Evernote, Flipboard, and Diigo. The iRecorder app is particularly useful since it allows me to record interviews unobtrusively.
For hardware add-ons, in addition to the basic iPad, I use the standard Apple Bluetooth keyboard, the VGA cable for presentations, and the Camera Connection Kit to transfer photos from my camera's SD card and to plug in a USB microphone. I also use the standard black Apple iPad case, allowing me to use the iPad at a low angle, thereby eliminating the typical laptop screen "wall" between myself and the interviewee.
If my only use for it were writing, I would like to see a matte screen to eliminate some of the glare and visibility problems when working outdoors (I prefer a glossy screen for photos and images).
All things considered, I'm extremely happy with the iPad, even though it's not perfect, it's a first-generation product with first-generation applications, and it has limitations. That being said, it's made dramatic positive changes to my workflow, my output, and my income.
Lem Fugitt is a Tokyo-based geek-about-town, using his experience in technology and business to write regularly on items of technical interest. He writes here about his recent conversion to a new way of putting thoughts into written words.
(Illustration by John Shelley 2011; photograph by Hugh Ashton)