May 12, 2015
An Encouragement of Style Sheets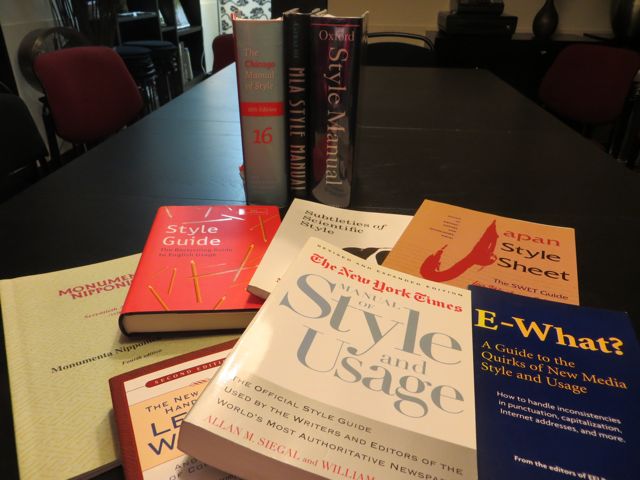 Setting your style—for the words in a document, book, report, newsletter, journal, website, or whatever you are working on—gives the product polish and professionalism. For an organization, a good in-house style sheet helps settle arguments authoritatively and expedites the little decisions that have to be made every day. Published style guides provide reliable and time-tested rules for most basic style questions (some examples listed below), but each online or offline publication, client, book, or other publication has specific priorities and preferences the editor is free to establish and maintain. The goal is consistency and clarity—without pain.
The emphasis being on the editor, we are encouraged to be familiar with the style choices made by editors in similar situations, and we looked at some of the style guides below (some not the latest editions) to get ideas for what to include. Then, it is up to each of us to compile our own style guide or guides for the work we do. Book publishers have a "house style," and, when necessary, a "style sheet" will be drawn up for each book or series. SWET, for example, has its own style guide, originally created for its long-running SWET Newsletter and now adapted for website article publishing.
The Chicago Manual of Style, 16th Edition (2010)
The Oxford Style Manual (2003)
MLA Style Manual and Guide to Scholarly Publishing (1998)
[The Economist] Style Guide (2005)
The New York Times Manual of Style and Usage (1999)
Subtleties of Scientific Style (available online at http://www.ung.si/~sstanic/teaching/CIS/Stevens-Subtleties_of_Scientific_Style.pdf)
E-What? A Guide to the Quirks of New Media Style and Usage (2000); this seems to be superseded by The Elements of Internet Style, also compiled by the editors of EEI Press.
In addition, we looked at printed copies of several other style guides that are online or otherwise available:
Wikipedia has been publishing numerous articles on Japan-related topics, and apparently there is someone industriously working to guide their style with a quite extensive style sheet at:
http://en.wikipedia.org/wiki/Wikipedia:Manual_of_Style/Japan-related_articles
The Monumenta Nipponica Style Sheet, created over a period more than ten years, offers a well-tested guidelines for an academic journal in the humanities. MN Style is especially useful for citation and bibliographies of scholarly material related to Japan. The 2017 edition (which changed quite a few rules since earlier editions) is available online at
http://dept.sophia.ac.jp/monumenta/pdf/MN-Style-Sheet.pdf
The "Guide to the Japan Foundation House Style and Consistency" (1998), which is not available online but was compiled by SWET members some time ago, is useful for its categories and choices.
Fred Uleman sent the link for the Japan Translation Federation Style Guide that he mentioned for E->J translators:
http://www.jtf.jp/jp/style_guide/styleguide_top.html
The Nippon.com Style Guide, which is based on the style sheet created for the former Japan Echo editors, largely by Suzy Trumbull, long-time SWET stalwart and editing guru to many of us, and updated for current online publishing by Nippon.com. At SWET's request, it has just been made available online at http://foundation.nippon.com/en/style/index.html.
Note: One extremely useful tip provided by the Nippon.com Style Guide is the advice it gives about tapping the online version of CMS even if you have only the printed version. It says: "In general, Nippon.com style follows the Chicago Manual of Style, sixteenth edition (2010). Rather than searching the index at the back of the book, you can save time by searching at the CMS website (http://www.chicagomanualofstyle.org/home.html) and then looking in your book at the sections indicated. We subsequently confirmed that even without a subscription one can search the manual and find the relevant section numbers, along with short excerpts of the content. Also, you can choose to search either the 15th or 16th edition.
The Talk Shop discussion also touched on guidelines for editing, for which a style sheet is but one convenient tool. Since many Japan-related editors come to their work via translation or other work and may not have professional training, the onus is upon us to train ourselves. The Editors Association of Canada makes available a basic guide for professional editors, which may enable you to answer some of your questions about "what is editing?" Of course the EAC teaches editing for a mainly Anglophone environment, so adjustments are often needed when working with Japan-related material, but it may offer a useful starting place or refresher checklist.
http://www.editors.ca/resources/eac_publications/pes/index.html.
SWET's own resources on editing and proofreading, which can be found in the "Articles" section of the SWET website and many other pieces published in past years, are available. SWET members can access past issues of the SWET Newsletter with many interesting articles on this subject by signing in to the site for access to PDFs.
This article is a report on the SWET Talk Shop, April 15, 2015 (Wednesday), held at the Books on Japan library in Jinbocho. It was compiled by Lynne E. Riggs with collaboration by participants at the event.