December 15, 2009
Self-Help for Editors
Reviewed by Ginny Tapley Takemori
The Subversive Copy Editor: Advice from Chicago (or, How to Negotiate Good Relationships with Your Writers, Your Colleagues, and Yourself). By Carol Fisher Saller. Chicago: The University of Chicago Press, 2009. ISBN-13: 978-0-226-73425-5, ISBN-10: 226-73425-0, $13.00.
The Subversive Copy Editor—what a great title! That alone was enough to make me pick up a copy right away. The author is an experienced editor from the University of Chicago Press—producer of the style bible followed by many publishers, the Chicago Manual of Style (CMS)—who among other things edits the monthly CMS online Q&A fielding questions from readers all over the world (including a professor translating CMS into Chinese—er, what?).
More pertinent, however, is the understated subtitle in parentheses, for this is not a book about style, but about the job itself and what it involves. In her introduction Saller suggests that we should "consider this a 'relationship' book," that writers do not need to be considered natural adversaries (take note!), that we need to be flexible and not hidebound by rules (hooray!), and that "ultimately, I'm hopeful that a reexamination of your role as copy editor can benefit all parties while liberating you from the oppression of unhelpful habits and attitudes."
In "Part One: Working with the Writer, for the Reader" she elaborates on what some of these unhelpful habits and attitudes are, and how to avoid them. While taking our intelligence and education for granted, she points out some of the pitfalls, such as, "One of the most counterproductive assumptions for young editors to make is that they are going to be working against the recalcitrance of writers who are ignorant of the rules." She emphasizes that a copy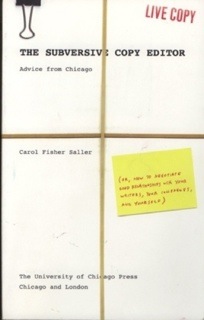 editor's job is to "listen for the writer's voice" rather than impose their own style, warning that, "For every writer with a tin ear who is helped by a competent editor, there is surely an inexperienced editor who will take a fresh and well-voiced text and edit the life out of it." And as for sticking dogmatically to points of style, she observes that, "There's a difference between the considered breaking of a rule and a failure to observe it out of ignorance." The hallmarks of an "enlightened editor" are, as she puts it, contained in the mantra "Carefulness, transparency, and flexibility" (and the book is full of these effective little three-point lists).
She acknowledges that some writers may be "nervous" about the editing process, for various reasons, and advises how to approach this kind of situation in order to bring about the best solution for the manuscript. She also points out that "writers aren't the only ones with ego issues," advising editors to examine our own motivations saying that "when you decide to argue a point, it should be on the merits of that point, not because you feel you have something to prove," and that although the writer may be a jerk, "even jerks can be right sometimes." She adds some helpful advice in the event that the writer is a bully, advising tact and flexibility at all times while not allowing yourself to be browbeaten into submission. She caps Part One with a chapter dedicated to writers, advising them on why the copyediting process is necessary and how they can best work with their editor—and what to do if they feel the editor has ruined their work. I would recommend that editors read this chapter too, as it naturally illuminates some of the reasons writers can be unhappy with editing decisions.
Part Two is dedicated to "Working with your colleagues and with yourself." Here Saller goes into the nitty-gritty of the editor's working life, and gives coping strategies for when the going gets tough, such as dealing with mindless tasks or complicated tasks—and what to do when you goof. A whole chapter is devoted to "Know Thy Word Processor" and how you can save time on all kinds of mundane tasks. Another focuses on "The Living Deadline"—why it is important to honor deadlines, and how to manage your time accordingly. And what to do when it becomes impossible to meet a deadline. Two chapters are dedicated to editors working in-house and freelance respectively, with eminently sensible comments on aspects from office politics and behavior, and how good etiquette and practice will ultimately be to your benefit, to advice on how to charge for a project. Part Two ends with some apt advice on how much time and effort you should spend on a manuscript, given that "The manuscript does not have to be perfect, because perfect isn't possible." Finally, she rounds the book off with an appendix devoted to practical advice on how to get started in the editing world, entitled "You Still Want to Be a Copy Editor? Breaking In."
All in all, there is nothing in this little book that sounds extraordinary, groundbreaking, or even particularly, um, well—subversive. However, the advice it contains is solid and pertinent, and I suspect it could be quite an eye-opener—possibly even life-changing—for some working editors. Saller's humor is infectious, and helps her to make points effectively, so that even experienced editors happy with their working relationships will enjoy the read, as well as possibly picking up some useful suggestions and tips and gaining some beneficial insights. Numerous helpful links are provided, such as the free Microsoft Word resources provided on www.editorium.com, or the Editorial Freelancers Association's guide to fees. Each chapter is prefaced with questions received at CMS online, to which Saller gives her rather caustic answers at the end of the chapter, by which time we've absorbed the lessons they contained and are able to laugh along smugly. It's also a great little book to dip into: opening it up randomly at page 85, my eye fell on the line, "First, don't make a habit of promising anything, especially to demanding personalities"; on page 93, "Play nicely." And when all's said and done, well, here I have to steal Saller's last line: "'Remember, it's only a book.' How deliciously subversive."
(Originally published in the SWET Newsletter, No. 123, October 2009)