August 30, 2022
Latest Kyoto Journal Issue: Encounters/Transitions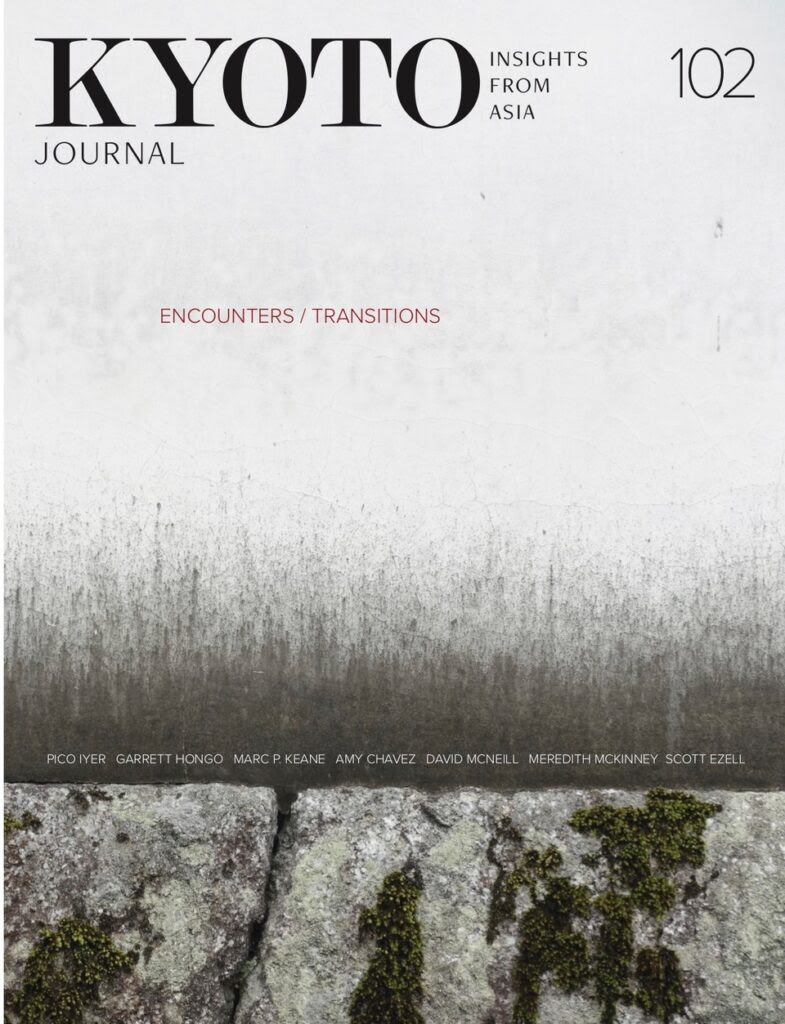 The newly released digital issue of Kyoto Journal, No. 102, brings together accounts of formative experiences in the context of historical momentum. A good example would be Vito Tomasino's tale of visiting Kyoto as a U.S. Marine on R&R from Korea in 1954, taking the opportunity against significant odds to throw himself briefly into judo training with a Kyoto police team, at a time when postwar Kyoto was re-opening to the world. At age 20, Vito is unknowingly on a trajectory that will lead him to becoming a "top gun" fighter pilot. Poet Garrett Hongo, translator Meredith McKinney, and essayist Pico Iyer each recount significant encounters in their early times in Kyoto, in the early 1970s and mid-1980s. Present-day Kyoto as a hub for creative collaboration provides the background for "A Composer and a Theoretical Physicist"—an article by Susan Pavloska and Lane Diko highlighting Yannick Paget's new symphony.
Looking further afield, the issue includes excerpts from Amy Chavez's new book (The Widow, the Priest, and the Octopus Hunter) introducing her neighbors on Shiraishi island in the Inland Sea and the major changes that are transforming their lives there. Another book excerpt, from Scott Ezell's Journey to the End of the Empire, plus a short "prequel" and postscript, focuses on how the historic village of Dali, in China's Yunnan province, has been reinvented over decades of tourism "development." West Bengal poet/calligrapher Nilanjan Bandyopadhyay has visited Japan 29 times; his absorption of Japanese aesthetics inspires him to build a contemplative teahouse (named Kokoro) in the university town of Santiniketan. Kala Ramesh, from Goa, also discovers and adopts the ancient Japanese tanka style of poetry, in addition to haiku—literary forms also evolve through time. We meet diviners from Hong Kong and Seoul using traditional systems to advise present-day (Covid-era) clients; another book excerpt, from the prolific Marc Peter Keane's new Arcs and Circles, illuminates a vital early shift in the aesthetics of Japanese tea ceremony. Also introduced are notable bookstores offering translations of children's books, especially in China, the richly decorative world of Japanese kites, a new take on Japan's yokai folklore, and the disturbing depths of an Akutagawa Ryunosuke story. A short fiction piece from Pakistan adds to the variety. Also included, among other poetry, a visit with "Cold Mountain" poets Kanzan and Jittoku—guided wryly by John Gohorry—and a wide-ranging collection of reviews.
KJ102 is available now for immediate download via the KJ website, at ¥800.