Florence Sakade (1916–1999): Book Editor and Designer
---
One of the last of the pioneers of postwar English-language publishing in Japan, Florence Sakade, died in Tokyo on February 21, 1999. She was eighty-two years old. At Charles E. Tuttle Co., where she worked for more than forty years, she edited, designed, and produced hundreds of books—many of them prizewinners and longtime best-sellers for the company. She also worked with and trained several generations of editors, many of whom now work in publishing on several continents and all of whom were influenced by her quiet professionalism, her sense of humor, and her dignity.
Florence's life spanned three continents and most of the twentieth century. She was born in 1916 in Tottori Prefecture. When she was six years old, her family moved to Canada, where she was educated until she returned to Japan to attend Tokyo Women's Christian College in the 1930s. After graduation she rejoined her family in Hiroshima, where she studied the traditional arts, worked in a kindergarten, and became a licensed pharmacist. After an arranged marriage, she lived with her husband in Manchuria for a little less than three years. She was detained, together with her young daughter, in what is now North Korea upon trying to escape the turmoil of World War II. After the war, she returned to Hiroshima, where she began working on children's books for a Hiroshima publisher. Traveling often to Tokyo (at that time an 18-hour train trip) to obtain materials from the Civil Information and Education section of GHQ, she met Charles Tuttle, and began working for him when he set up his publishing company in 1958.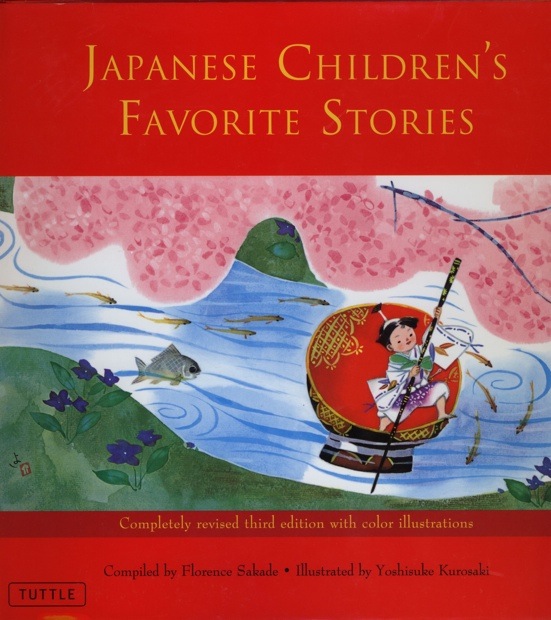 Working with some of the other giants of English publishing in Tokyo like Meredith Weatherby, Ralph Friedrich, Nobuki Saburo, and Bruce Rogers, Florence began to design, edit, and produce books for young readers—many of which are still in print. Her first book was Japanese Children's Favorite Stories; it was published in 1958 and remains in print today. Another early Sakade book was Guide to Reading and Writing Japanese which she compiled from scratch and which has been used by generations of Japanese language students to study kanji. A number of the books she went on to produce on the arts of Japan have received design and editing awards; authors she worked with include Donald Richie, Don Draeger, Hugo Munsterberg, Raymond Bushell, William Malm, and Andrew Nelson (of Japanese-English Character Dictionary fame.)
To dozens of people who worked with Florence at Tuttle as editors, proofreaders, and designers, she was a patient teacher and model of good design principles and high editorial standards. "Florence was simultaneously kind and exacting, and the combination made her a wonderful teacher," remembers one. Always modest and self-effacing, she downplayed her own talents, but she followed and taught the basics of good editing: less is more; don't change the meaning; editors shouldn't resort to rewriting; never sacrifice good style to grammatical correctness. Even in her seventies, she was always open to new ways of doing things: "When I have to stop learning, I may as well give up," she told one colleague. She could always laugh at her own mistakes: a former staff editor remembers Florence patiently telling a new proofreader to be careful of missing glaring typographical errors in display type, and then laughingly discovering that she herself had missed a misspelling of "Tuttle" as "Turtle" on a title page proof!
As a young designer, Florence worked with Meredith Weatherby, one of the best; and editors who worked with her continue to use her books as examples of clean, elegant typography. Over the course of forty years at Tuttle, she was responsible for more than 400 books, on subjects ranging from martial arts to architecture and in formats ranging from slim volumes of poetry to complete dictionaries and manuals. She saw each new book as a challenge—one that she relished.
In spite of being subjected to the time-honored Japanese form of "rationalization" in the form of a dramatic cut in pay when she reached the age at which she might have retired, Florence continued to hold the Tuttle editorial department together into her eighties. Her advice to younger co-workers was always the same. "You must love what you are doing. Otherwise your editing becomes sloppy and you won't be able to produce good books." Her work inspired and energized her, and she kept a regular schedule at the office until well into 1998, when she was hospitalized with cancer. Until a few weeks before her death, she continued to work on a reduced schedule at Tuttle's relocated offices in Kawasaki.
Florence was a dignified, self-effacing, and private person, with a quiet sense of humor and a unique blend of sophistication and innocence. She kept up with friends and relatives in many parts of the world, enjoyed visiting bookstores and attending art exhibits in Tokyo, and loved gardens and walking. A member of SWET since its founding, she attended a number of its social and professional functions over the years. She was devoted to her family, who included a daughter and two grandchildren in Tokyo and a brother in Canada, and for many years she cared for her aging mother at home.
To those around her, her energy seemed boundless: for decades she regularly walked the several kilometers between the Tuttle office in Bunkyo-ku's Omagari and her home near Yasukuni Shrine, leaving younger colleagues in the dust with her brisk pace. Those of us who were privileged to know her—and occasionally to take that walk with her—will miss her curiosity, her kindness, and her enjoyment of life. The books she so lovingly made will remain as an inspiration and as a tribute to her great contribution to our community of the English word in Japan.
Susie Schmidt wrote this article, with help and contributions from Florence's friends and former colleagues Becky Davis, Anita Feldman, Peter Goodman, Amy Heinrich, Susan Oki Mollway, Susanne Kirk, Michael Brase, and Steve Comee. Much of the biographical information was taken from an interview with Florence by Steve Comee and Nina Raj that was published in the December 1997 SWET Newsletter (#78).
© Susie Schmidt 1999
Originally published in the SWET Newsletter, No. 85 (May 1999), pp. 18–20