March 18, 2021
Wood/Carpentry
Japanese Wood and Carpentry: Rustic and Refined. By Mechtild Mertz. Otsu, Shiga Prefecture: Kaiseisha Press, 2020. ¥4,800.
By Judith Clancy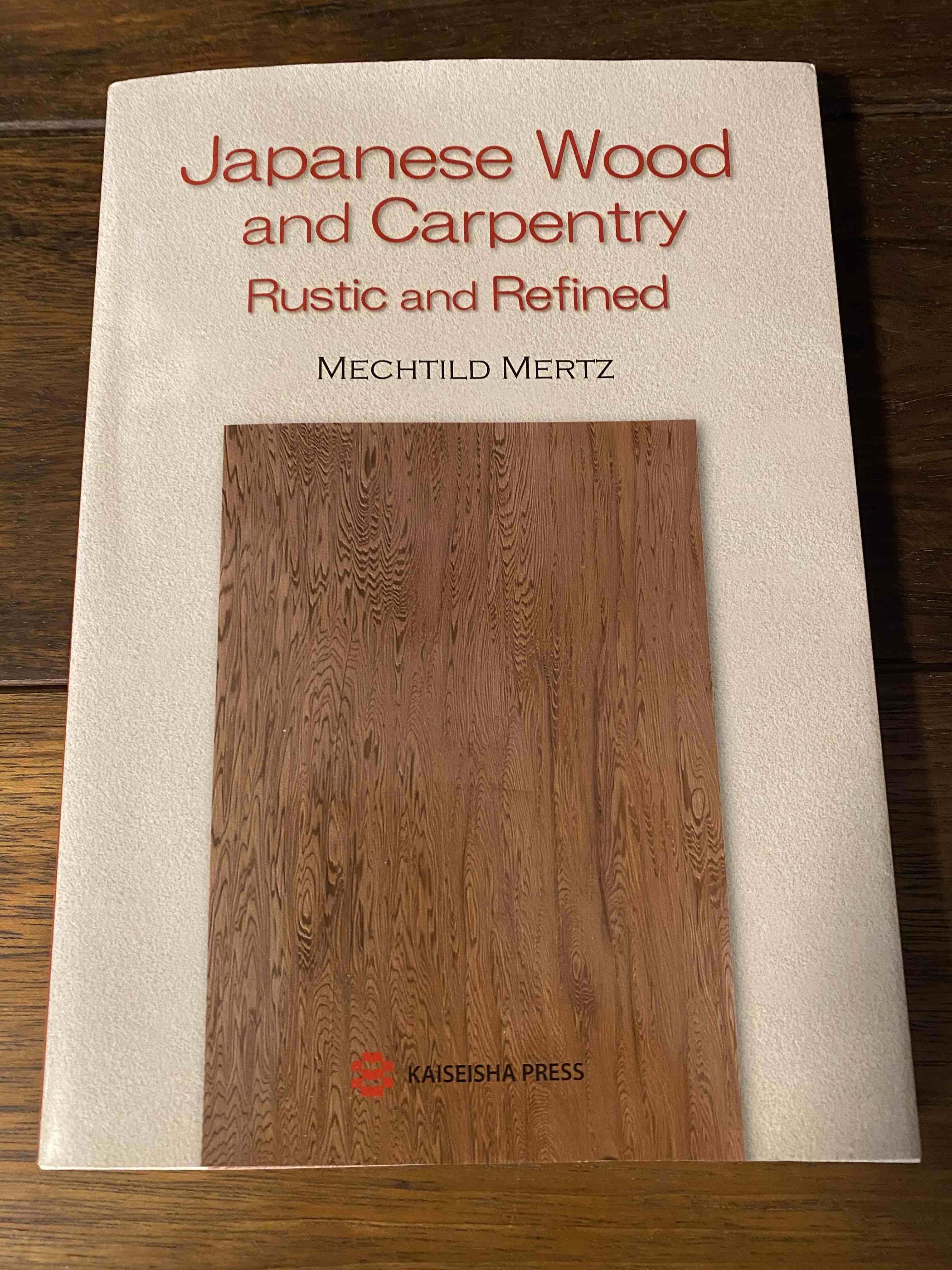 Japan's remarkable history of wooden structures ranges from massive temples to delicate cabinetry. All their parts, from supporting pillars to decorative tokonoma posts are made from carefully selected wood species. Translators and editors frequently encounter the diverse terminology of Japanese carpentry and woodcraft in their work, and this book offers a reliable source for authoritative language and understanding. Sections on miya-daiku (temple and shrine carpenters), sukiya-daiku (carpenters of refined teahouses and residences), tateguya (joiners of doors, windows, and screens), and daiku (general carpenters) set forth the basics for major structures encountered in writing about Japan, whether for scholars, general readers, or tourists.
Kyoto may be the largest repository of wooden buildings, a visual legacy that soothes and informs even casual visitors. Indeed, Japan also has some of the world's oldest wooden structures, a testimony to the skills and heritage of its craftsmen. The refined techniques that produced its immense and lustrous temple pillars and wide plank flooring and the aesthetic that appreciates the rustic appeal of the thatched farmhouse have contributed to traditions continuing for centuries.
Mechtild Mertz, an ethnobotanist whose first book was Wood and Traditional Woodworking in Japan (Kaiseisha, 2016), introduces the materials used, techniques, nomenclature, as well as the aesthetics and the culture cultivated in various fields of woodcraft. She trained as a cabinetmaker in Germany, studied East Asian Art History at the University of Heidelberg and then at the Sorbonne University, and is presently a researcher at the East Asian Civilizations Research Centre of the National Centre for Scientific Research in Paris.
The 130 pages of Japanese Wood and Carpentry contain a prodigious amount of information. Good quality color photographs show different timber species, color, and grain while noting their aesthetic, ecological and economic value. Photos of centuries' old prints of carpenters and their tools contribute to the further understanding of the background and history.
The organization of the material is excellent overall, and the photographs of wood samples, structures and architectural details are deftly interspersed with the text, making the book a pleasure to read.
Mertz informs the reader not only of the history of wood use but the inherent appreciation of this resource that is nationally (and understandably) recognized. She includes facsimiles of 32 pages from the Yūyō mokuzai shoran, the handbook that was created with thin transverse, radial, and tangential sections of actual wood samples for the 1876 Philadelphia and 1878 Paris World Expositions (pp. 79–113).
The helpful appendices include maps of Japan with the names of old provinces and modern ones, and the invaluable glossary lists wood species and building use in romaji, kanji and English.
"Look inside" book preview is available at the Kaiseisha Press link above.