Readings on Japanese-to-English Translation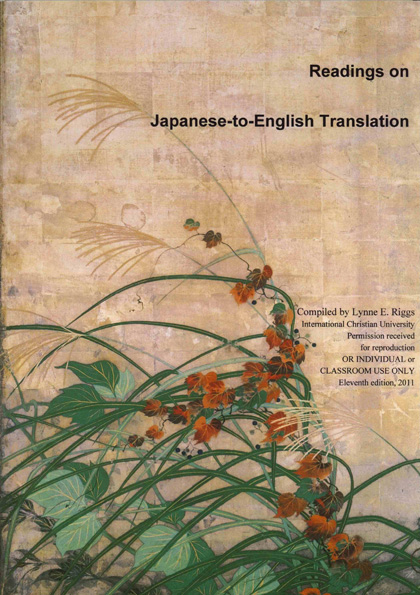 Compiled by Lynne E. Riggs
Twelfth edition, 2012
Print (limited copies available)
The "Buy Now" button will take you to a PayPal secure transaction page where you can change the number of copies you wish to purchase and/or pay by credit card.
Selected articles on Japanese-to-English translation. Permission for publication of the articles in this anthology has been obtained for individual and classroom use.
The Alchemist, by Kano Tsutomu
Translating Works in the Social Sciences: Problems and Prospects, by Kano Tsutomu
A Live Dog: Some Pointers on Translation, by Charles S. Terry
Translation Between Typologically Diverse Languages, by Donald Philippi
The Mysteries of Translation, by Wendy Lesser
Eight Ways to Say You: The Challenges of Translation, by Cathy Hirano
Notes from Interlingual Hell: The Translation of Essays and Journalistic Prose, by Lynne E. Riggs
Bilingualism, Biculturalism, and Translation, by Chikako Kobayashi
Burning the Bridge, by Michael Emmerich
Jumping into the Pond, by Julie Winters Carpenter
Noh Translations on the World's Stage, by Higashizono Tadatoshi
Through the Glass Darkly: Is Translating Poetry Possible? by Janine Beichman
Hearing Voices: Encounters with Translation, by Rebecca Copeland
On Literary Translating, by Meredith McKinney
Excerpts from the introduction:
This anthology was born out of the desire for something to read simply about Japanese-to-English translation—not "translation studies," not translation among Indo-European or Romance Languages, not even about translation from English (or other languages) into Japanese—but just about translation from Japanese to English (J–E). In the huge world of translation, which in the twenty-first century may finally be recognized for the vital profession that it is, the J-E niche deserves its own literature. The articles in this volume may be a start in bringing such reading together and strengthening its voice.
. . .
Reading about translation will not teach you how to translate. You can only learn by doing it. J-E translation has been much facilitated by the Internet and other technical advances achieved in recent years. Vast sums have been spent in the attempt to have machines do the drudgery, but for translation of most writing in Japanese, only a human being will do. That is something to embrace and celebrate. There will never any real shortcuts for the translator; only tools for awakening and enlivening the "alchemy" of the mind that makes it possible. As we tackle the fascinations and difficulties, however, the enthusiasm and passion of these authors can be both useful and encouraging.
Payment options
Credit card You can pay by credit card through PayPal, even if you do not have a PayPal account. Please use one of the buttons at top of this page.
Postal transfer In Japan, remittances may be made by post office deposit (yūbin haraikomi). The necessary forms are available at all Japanese post offices. The account number is "SWET no Kai 00100-8-0042202."
Important note If you pay by postal transfer, please send an email to readings@swet.jp giving your name and postal address in English or Japanese.
Bank transfer Within Japan, you can pay by bank transfer. For instructions on how to remit, please see https://swet.jp/membership/pay
Important note If you pay by bank transfer, please send an email to readings@swet.jp giving your name and postal address in English or Japanese.